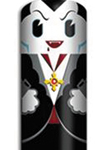 A Peter Pan attitude is characteristic of Michael Becker, founder of Funko Inc., and Bill Ziegler, owner of Wild Bill's Nostalgia Store. In an interview, Becker comments, "Who wants to live in the adult world anyway? That's why I created this little company. It's my hideout, my secret tree fort, if you will. I don't need for everyone to understand it, I'm just hoping to find a few more like minded buddies to join along." Ziegler, a like minded buddy, distributes many of Becker's imaginative products, such as the legendary Wacky Wobbler Bobble Heads and now his new Mixo product line, Kooky Kans. Kooky Kans combine the look and nostalgia of tin lunch boxes from the 60s and 70s, along with the fun of everyone's favorite action figures. Each Kan is available for $5.50 wholesale and retails about keystone at $10 apiece.
Kooky Kans Nostalgic of Tin Lunch Boxes
According to Becker, "We fill our Kooky Kans with the things dreams are made of and invented out of," or in other words, sweets, treats and good eats. For instance, the Batman inspired Kooky Kan contains drink mix, candy and cereal. The eight and a half inch tall tin, resembling the shape of a thermos, comes in more favorite childhood figures, including Superman, Wonder Woman, Papa Smurf and Valentino the Vampire. Zeigler notes, "These Kooky Kans will do well. Metal lunch boxes always sell well, and these are made in their likeness."
Ziegler's interest in nostalgic merchandise makes Kooky Kans a perfect addition to his store in Middletown, CT. Ziegler is showcasing the Kooky Kan line at the Las Vegas ASD Show, July 31 – Aug. 3 at Booth V5262. Wild Bill's has spent 20 years selling posters, prints, buttons and many other 60s and 70s items. Ziegler says, "In this economy, nostalgia still sells," forecasting the expected success of the new Kooky Kan line.
For more information:
Wild Bill's Nostalgia Store
1003 Newfield St.
Middletown, CT 06457
Tel.: 860-635-1226
Website: www.wildbillsonline.com