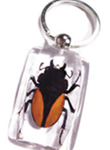 Timeless Treasures, true to its name, supplies timeless gifts for any occasion, such as its wooden roses and Murano glass pendant collections. The wooden roses are a gift that is always appreciated and always in season, as they are made of painted wood and come in a choice of 50 different colors. The Murano pendants are made of glass in a variety of colors, with about 300 different designs. The newest addition to Timeless Treasures' gift offerings, however, will have retail consumers buzzing. The company's Real Nature jewelry and key chain products, featuring real insects, will have consumers talking about the newest creepy crawly additions on retailers' shelves. At $1.50 each wholesale, Timeless Treasures provides healthy profit margins, with the product retailing for $5.99 or perhaps two for $10.
Creepy Crawley Giftware
Scorpions, beetles, ants, spiders and other live specimens will be encased and displayed in the Real Nature products. According to Angelina Koski, co-owner of Timeless Treasure, "Scorpions and spiders are by far the most popular." As for the product design, Koski says, "We sell the insects encased in bracelets, necklaces and key chains. All of them sell equally well across the board." While there are three separate products, all are offered at the same rock bottom wholesale price. The key chain is a standard design, while the bracelets and necklaces feature a macramé type cord.
Timeless Treasures requires a $100 minimum, but allows for mixed orders of the Real Nature product lines, whether by product style or insect type. The best deal, Koski emphasizes, "is the 200 piece special. Customers will receive a 200 piece mixture of our best sellers for $300, plus free shipping." Those opting for the special will also receive a counter display with signage to showcase the product. For those retailers interested in other volume pricing, Koski asks that they call directly. The interest and timeless nature of these products has Koski already considering an expansion of the line, saying, "I'd love to add butterflies at some point." The current line, however, makes for a unique gift for gift givers looking for a new idea, and as each item is sold with a gift box, little preparation is needed before handing it over to the recipient.
For more information:
Timeless Treasures
212 Pennsylvania Ave.
Woodland Park, CO 80863
Tel./Fax: 719-686-8246
Website: www.glasspendantswholesale.com,
www.woodenrosesusa.com