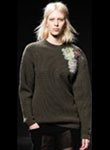 Expect to be warm this winter. The bigger the shape and the bigger the knit, the more on trend and more comfortable fashion is looking for fall 2014. Polar vortex or not, the season's trends are full of easy-to-wear pieces that produce a warm and cozy look into the coming months.
Neon to pastel

Colors to keep an eye on for fall range from neon to pastel, and wearing them both from top to bottom. Blues and oranges have a prominent presence, both as accent colors and using the attention grabbing main pieces. Offsetting the bright colors is the pastel color palette, shown on the runway from head-to-toe, but could be the perfect backdrop to a striking accessory in real life.
Layers
Like pairing matching tops and bottoms together, another way to style clothes and make pieces feel cool again is to layer a dress over pants, as shown at Balenciaga and Kenzo. The look that originated on the runways last year is surprisingly easy to wear on the street. Keep the bottoms more straight-legged, and allow the dress to have some shape and movement at the bottom for the best silhouette.
Short shift dress
Another new (but "old") silhouette plays on the shape of the '60s trends of the swing dresses and short skirts. This short shift dress style was a recurring shape for designers, including Saint Lauren and Louis Vuitton. Modern takes include cutouts, added capes and bright colors. Get away with a bare leg in the fall months, but as temperatures chill, pair the look with tights to stay warm – and chic!
Black
Jumping up a few decades, the '90s continue to sneak into today's trends. Instead of grunge, looks are leaning more gothic and gaining continual references to the '90s hit, The Craft. The black shade is modernized with texture, fur and leather, and velvet is the fabric of choice for things from dresses to jackets. Sheer black fabric takes miniskirts to midiskirts, as shown on the runway of Michael Kors and Donna Karan. Part your hair down the middle, throw on a choker necklace and try not to smile too much.
Athletic
Another trend lasting this year is the contemporary take on street-styled athletic clothes. Think traditional athletic shapes like track pants, but in leather, or a sweatshirt in a fine cashmere knit. It matches the demand for style and comfort, which seems to be an underlying theme in many of the collections shown, especially by Miu Miu and Fendi. Pair the look (or almost any look this season) with bright, multicolored trainers, for a look that is cool and comfy.
Outerwear

With comfort in mind, the biggest trend for outerwear this season for both men and women is the oversized, wrapped and belted robe coat. Pieces from YSL and Altuzarra are indeed reminiscent of a bathrobe, but with details like fun colors or a more traditional collar. Streamline the look by wearing slim-fit pants or a turtleneck, and keep hair sleek.
Knits
Underneath your coat, leave room for this season's large and lux knits. Large sweaters, large collars, even large pants keep all areas of the body free from chill this year. No knit is too big or too intricate, alleviating the need for tights with matching sets, like the widely seen outfit from The Row.
Fur
The final trend may seem anticipated, but designers are playing with fur in new ways. Shape and texture in rich colors and patterns update the inevitable trend. Shearling is making a large appearance as accents for bomber jackets, but more dramatically as the chosen material for the whole coat, which creates a large and exciting shape.
These trends may be worn apart or mixed together to create a look that is both modern and personal. Choose pieces that fit the personality of your store and customers. This is the season to push the limits, and wear eccentric pieces with confidence.