By Kristin Morency Goldman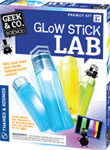 Whether trying to prep little ones for school or simply to ward off boredom on a rainy afternoon, parents who want to get their kids experimenting, creating and exploring the world around them will gravitate toward toys and games that teach important STEAM concepts (Science, Technology, Engineering, Arts and Math). "From the classroom to the playroom, there are so many playthings that will get boys and girls excited about learning, whether a child has a penchant for the arts, sciences or engineering," says Adrienne Appell, trend expert at the Toy Industry Association (TIA). "Retailers who are well-versed in educational play can help teachers and parents select the perfect toys, kits or crafts for their students or loved ones."
The latest learning toys skillfully weave creative design and even tech elements to make for a well-rounded play experience. In addition to promoting STEAM subjects, many of these playthings also support aspects of the Common Core State Standards Initiative, which establishes consistent education standards for K-12 in English language, arts and math, and has been adopted by 45 states to date. From programmable robots to activity toys that inspire budding designers, this trend is expected to be hot for the holidays, straight through 2015.
---
Science, Technology & Engineering:
Science, tech and engineering are garnering significant media buzz these days, thanks to a new Hollywood funded educational program that teaches students about the important role that these subjects play in bringing horror movies to life, as well as a viral social media campaign by the makers of GoldieBlox, a building toy designed to spark young girls' interest in engineering. The following are just a few examples of the many playthings that will keep curious minds engaged:
Science Kits (Thames & Kosmos) (5+)
This line of hands-on science kits includes the new "Spark" kits, which retail for less than $10 and make learning new concepts fast and fun, and the "Geek & Co. Science" series, which includes a kit that allows kids to make their own glow sticks, using nontoxic phosphorescent substances and ultraviolet light.
Sea-Quarium (DuneCraft) (3+)
Kids can "grow an underwater adventure" with the Sea-Quarium, which includes eggs that are fed, incubated and come to life as "sea-sauruses." Made in the USA.
PowerUp 3.0 Smartphone Controlled Paper Airplane (Tailor Toys, LLC) (8+)
Simply fold a paper plane, attach the motorized propeller and motor, and watch it take flight. The latest (3.0) version has been integrated with Bluetooth technology so that kids can control the plane using a smartphone.
Synth Kit (littleBits) (12+)
Teen musicians can create complex sounds and innovative music with the littleBits Synth Kit, which enables anyone to build their own sound machine. Includes 9V battery and cable, oscillators, keyboard, micro sequencer and more.
Deluxe Roominate (Roominate) (6+)
A wired construction kit designed specifically to get girls excited about engineering, this educational toy allows kids to build spaces and then bring their creations to life with functioning lights, motors and more.
VEX Clawbot Kit (Innovation First) (8+)
The ClawBot includes 600 different pieces and electronic components that can be combined to build a programmable robot with a giant claw that opens and closes.
---
Arts:
Artistic toys are often open-ended (thus offering extraordinary play value), allow children to think "outside the box" and help develop visual-spatial learning. The following examples encourage inventiveness and promote decision-making and motor skills:
OgoBild Bits + Animate (Ogo Sport) (6+)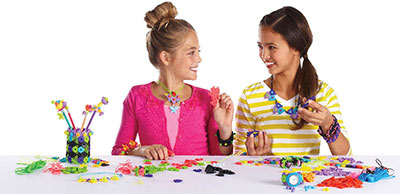 This 75-piece building kit allows kids to create characters and feature them in stop-motion animated movies, using the included video software. Combines building, storytelling and moviemaking for endless, creative fun.
Vivitz (JAKKS Pacific) (5+)
Vivitz is a building toy line that incorporates traditional arts and crafts, activity play and fashion play. Young designers easily snap together the bendable, hexagon-shaped pieces to create colorful jewelry and decorative accessories for their rooms. Pieces can be taken apart to start all over again.
---
Math:
Board games are a fantastic way to get the whole family exercising their arithmetic skills. These games are so much fun, kids won't even realize they are learning important mathematical concepts. Examples include:
Math Explosion (The Young Scientists Club) (5+)
The object of this game is to correctly answer math questions in order to move around the board. Right answers are also rewarded with the opportunity to add baking soda to the "volcano" at the board's center. The first person to make the volcano erupt wins.
The Adventures of Tigermore and the Mind Angels (Yamie Chess) (5+)
Created by a U.S. chess champion, this learning toy pairs cartoon characters with math and science lessons, developed by qualified U.S. educators. This toy is suitable for chess beginners and children at all levels of math ability, and endorsed by Havard/MIT math experts.
Retailers can find more information about toy trends, seasonal play and safety tips, and recalls at www.ToyInfo.org. Don't miss out on next year's North American International Toy Fair (February 14-17, 2015), the place where trends are born. Visit www.ToyFairNY.com to learn more.