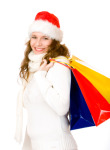 Holiday sales will be up by 2.3% this year, a nice gain over last year's 0.4% rise and 2008's 3.9% decline, the National Retail Federation reports.
Sales are expected to hit $447.1 billion, lower than they ten year average but still a bright spot for retailers.
"While many consumers will be wishing for apparel and electronics this holiday season, retailers are hoping the holidays bring sustainable economic growth," said NRF President and CEO Matthew Shay. "Though the retail industry is on stronger footing than last year, companies are closely watching key economic indicators like employment and consumer confidence before getting too optimistic that the recession is behind them."
NRF's holiday sales forecast is based on an economic model using several indicators including employment, industrial production, disposable personal income and previous monthly retail sales reports.