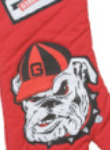 Fall means football, and that means tailgate parties. Now an Iowa company is helping college football fans show their true colors right on their grilled meats with The Grill Topper. Designed to go atop any barbecue grill, the Grill Topper can sear a college football team's logo right onto steaks, burgers or other large cuts of meat.
"We started the company about two years ago with a limited run of products," says Grill Topper founder, Jory Dyvig. The University of Iowa granted his company, Iowa based Seneca Inc., a local license, and positive word of mouth helped the company grow. "We started to branch out with two teams, then six, then 12, and now we're up to 46 collegiate teams," Dyvig reports.
The Grill Topper is a simple but surprisingly effective item. It turns ordinary grilled meats into works of art by searing a favorite team's logo onto the surface of the meat. Simply set the Grill Topper on your existing grill rack, and place your chicken, pork, or beef directly on the team logo, searing the logo onto the meat as it cooks to perfection.
Grill Toppers wholesale for $22 each, and retail for $46 to $50 for the 1311 Model large unit. A smaller one, the 550, wholesales for $9 and retails for $18 to $20. There's even a Topper for hot dogs, which sears in a school's name in 2" x 8" letters, which wholesales for $8 and retails for $16 to $18 each. A minimum order for new accounts is $200, and buyers can mix and match various logos to fill out their order. The Toppers come in displayable clamshell packaging.
The company also carries a full line of school-branded grill gloves and jersey aprons. Prices are available on request. Expanding from its college line, Grill Toppers is coming out with branded toppers from Ford and the U.S. Army, and talks are underway with both the NFL and Major League Baseball for possible branded products next year. A full video demonstrating the product is available at the website, thegrilltopper.com.
For more information:
The Grill Topper
P.O. Box 365
Webster City, IA 50595
Tel: 515-832-2068
Toll Free: 888-932-2068
Website: thegrilltopper.com