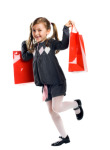 Teen apparel retailers led generally stronger-than-expected same-store sales in September, with a late start to the back-to-school season helping those chains beat Wall Street forecasts, Reuters reports.
"It was a late back-to-school season that started slowly while shoppers waited for discounts," said David Bassuk, managing director at AlixPartners' global retail practice. "And it looks like they'll do the same for the holidays." U.S. same-store sales rose 2.8 percent, according to Thomson Reuters data which tracks 28 top chains, beating analysts' estimates for a 2.1 percent increase. It was the 13th straight month of sales gains.
The full story with all the numbers can be found HERE.