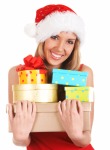 US consumers plan to spend an average of $688.87 on holiday-related shopping this year, a slight rise from last year's $681.83, the National Retail Federation reports.
"Consumers will still shop with the economy in the back of their minds, but we're starting to see shoppers take baby steps toward a new normal," NRF President and CEO Matthew Shay said in a statement. "As Americans open up their wallets for more discretionary gifts like jewelry or take advantage of sales to buy for themselves, retailers will begin to truly believe that the worst may be behind them."
According to NRF's 2010 Holiday Consumer Intentions and Actions Survey, conducted by BIGresearch, 61.7 percent of shoppers say the economy will impact their spending, down from last year's 65.3 percent. Although the economy continues to impact shoppers, a number of survey results indicate that shoppers may be ready to emerge from their shells this holiday season.