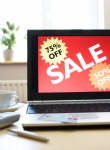 Some small-town local merchants are beginning to close their shops and do business strictly online, according to a published report.
The Allentown (PA) Morning Call reports that a number of local shops are beginning to follow a growing national trend where "merchants [are] trading brick and mortar for the digital marketplace, a niche fueled in part by the nation's sour economy. Experts say online sales grab a wider audience, have a nearly endless inventory and operate without expensive leases or an army of staff."
Online sales have been steadily growing in recent years, but continue to pale in comparison to stores, the Call says. The online marketplace accounted for about $155 billion in sales last year, up from about $48 billion in 2001, according to Forrester Research Inc. Last year's earnings represented about 7 percent of total retail sales, according to the National Retail Federation, the Call adds.