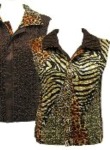 With most of the nation starting to feel the effects of the upcoming winter weather, one company is poised to help retailers meet customers' needs with a full line of quality, low-cost cold weather gear. Buy Wise, a wholesaler out of Overland Park, KS, has numerous items ready for delivery that customers will be looking for.
"When I took over this company back in 2000, the previous owner featured a more tropical, touristy line," says co-owner Debbie Burks. "But I wanted to have products for the folks I came into contact with," she adds. So Burks began carrying more cold-weather gear, including this year's hot items, the Ruana Wrap and the reversible vest.
"The Ruana Wrap is a great item," she says. "It's ideal for those chilly days when you want to throw on something other than a heavy coat." Available in different styles and various colors and prints, the wool-feel capes wholesale for $20, and retailers are selling them for anywhere from $40 to $60 each.
Buy Wise is also seeing strong interest in its reversible vests. "It gives people the warmth without the bulk," Burks says. "Plus, because it's solid on one side and printed on the other, you can wear it with lots of things." Buy Wise also offers a number of coordinated tops that go well with the vest. The reversible vest wholesales for $28 and retails for between $60 and $70.
"We also have an extensive line of scarves, including some Pashmina scarves pre-ticketed at $39.99, which we wholesale at $60 a dozen," Burks says. The company also has one-size-fits-all gloves that whole for $4 a pair and retail for $10, and stylish winter headbands that wholesale for $36 a dozen and retail between $6 and $8 each.
For More Information:
Buy Wise
7511 West 52nd Street
Overland Park, KS 66202
Tel.: 913-831-0298
Toll Free: 800-428-9947
Website: www.buywise.biz