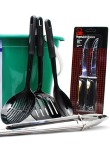 For a company as big as it is, International Wholesale of Southfield, MI, still operates with the mindset of a Mom & Pop operation, and that's a good thing for its customers.
"The company had its beginning 30 years ago when my father-in-law, Sam Konja, had a small convenience store," says Michael Sheena, operations manager. "His candy distributor came in one day and told him prices were going up. But he let Sam place one final order at the old price, which he did, and then stockpiled the goods in his back room." Sam then resold the stock to his friends who had similar businesses. Whenever his reseller had special deals, Sam stocked up, began keeping his goods in a storage unit and eventually sold the store and went into wholesaling himself.
Now International Wholesale has a 132,000 square-foot warehouse, and carries between 4,000 and 4,500 items. "We sell to brick & mortar stores, dollar stores, discount outlets and mom & pops," says Sheena. "Candy is still a big part of our business, which is broken down into two divisions, dollars stores and wholesale," he adds. Sheena says the company is also seeing strong interest in food and disposable items, cleaning supplies and HBA, all at remarkably low prices.
International has a $1,000 minimum order FOB, and Sheena says his prices and service speak for themselves. "We're a very customer-oriented, family owned company," he notes. "We usually ship orders within 24 to 48 hours. New customers need to go through a simple registration process online, and if qualified they're approved within 24 hours. I personally screen them myself to make sure there's no conflict with our present customers," Sheena adds.
For More Information:
International Wholesale Inc.
21170 West 8 Mile Road
Southfield MI 48075
Toll Free: 800-337-7565
Website: www.internationalwholesale.com