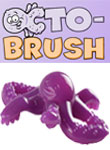 Baby Banana® Brush, a family owned and operated business, brings gum massaging and tooth brushing into one infant-to-toddler friendly activity. The company's line of brushing and teething products is designed to promote healthy oral care habits from the earliest possible age.
Baby Banana Brush's newest introduction is the Octo-brush, an eye-catching purple teether and toothbrush. The product's eight tentacles of different textures massage and soothe sore gums, and also make it easy for small hands to grasp. "Two of the tentacles are shaped like a traditional toothbrush, so children get used to having that feeling in their mouths," states Natalee Phillips, marketing director. The Octo-brush, like all Baby Banana's products, is made from the highest quality medical grade silicone, which is non-toxic, non-allergenic, soft and bendable.
The firm's top seller is the Baby Banana Brush for infants, which has easy to hold banana peel handles. Other items in the product lineup include a banana shaped training toothbrush for toddlers, a three pack of animal shaped teethers and the Sharky, which has open loops in the tail fin that are perfect for attaching a binky strap. Designed by company owner, Sandra Phillips, and Heather Phillips, a dental hygienist, all the company's products are patented and have registered trademarks.
Safe, fun gifts for toy stores, aquariums and zoos
"There have always been hard plastic toothbrushes and teethers, but our line brings both of these together in soft, safe and entertaining products," Phillips notes. "They are totally safe for young children. This is important, since there is a high incidence of children under two years of age being taken to the hospital emergency room because they fall while chewing on pencils, spoons and toothbrushes, and injure soft tissues in their mouths." The safety aspect of Baby Banana Brush's selections is appealing for any retailer, whether a toy store, baby boutique or dental office, she adds. "Everyone wants the safest products for their kids."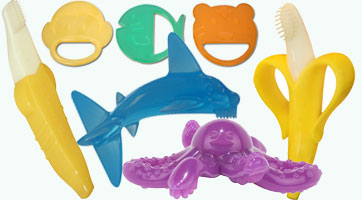 In addition, because the products are designed in myriad fun forms, they are positioned to sell well in a variety of specialty and souvenir settings. Sharky and Octo-brush, for example, would sell well in an aquarium gift shop, and the banana brushes would be popular at zoos.
The Baby Banana Brush for infants is manufactured in the U.S., and the company's other products are made in Taiwan. "We chose Taiwan because it is the silicone capital of the world, and their standards are very high," Phillips reports. "We wanted to support business in the U.S. as well, so we have our best selling product also made here."
Ordering highlights

Baby Banana Brush products wholesale for $4 to $4.50, and retail for $7.99 to $8.49 each. The minimum order is 12 pieces of one style. Baby Banana Brush's consumer website provides detailed product information, but retail buyers must call or email the company to request an application to become a vendor. Baby Banana Brush will be exhibiting at the IGES/SSS show in Sevierville, TN, in November, at booth #2332.
Where to buy:
Baby Banana® Brush
Tel.: 208-233-2392