By IvyLee Rosario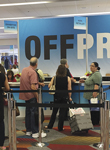 Whether you choose to attend in February, August, or both, Off-Price is guaranteed to be a show you will never forget. With a comprehensive offering of all categories of apparel, footwear, accessories and jewelry that are ready for immediate delivery, Off-Price offers a unique experience for retailers to find quality merchandise to set your store apart from others. "The Off-Price community is robust," says Stephen Krogulski, CEO. "Our goal has always been to introduce our show to more retailers and make it a must-see event. It is all about education; we want to continually educate retailers on the value of shopping at this show."
The upcoming Off-Price show will take place on February 14-16, 2016 at the Sands Expo and Convention Center at the Venetian/Palazzo in Las Vegas. With a 95% retention rate, it is no wonder why both retailers and exhibitors are flocking back to Off-Price for the latest fashion items. The February show will be expecting 525 exhibitors and an attendance of over 8,500 retailers.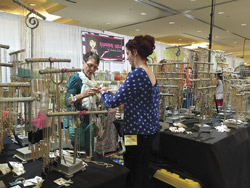 Off-Price is an all in one show where you can find the best merchandise for your store no matter what the season. "In retail there are two seasons, warm and cold," explains Krogulski. "In February, exhibitors will be selling for the warm season in the coming months for immediate delivery in March, April, and May. At our August show, retailers will be buying for the cold season and gearing up for holiday and the colder climates."
Your store type and your location will determine which Off-Price show will be best for you to attend, but Krogulski recommends coming to both. "We have the mentality of 'you never know what you will find at the Off-Price show.' Vendors are always out looking for deals so the show and product selection are always changing. This gives retailers the opportunity to check out how other stores are doing, find great deals and engage and find products that will make their store much more successful."
If you are looking to attend the Off-Price show, Krogulski recommends pre-planning as much as possible to get the most out of what the show has to offer. Taking advantage of the show tools and having an idea of what to look for is the best chance for success. "Whether you are interested in trying to add a new category in your store or searching for the best deals, it is best to come early because the first couple of days have proven to be the most rewarding." For more information on next year's Off-Price shows, visit www.offpriceshow.com.