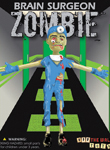 With a catalog of over 500 skus of apparel and toys, NJ Croce Co. is the source for innovative and fun licensed entertainment products, designed for the inner child in all customers. "I love creating excitement in fully grown adults as if they were kids," admits Nick Croce, president. Partnering with his father, Croce established NJ Croce Co. in 1981. The company's first licensing agreement was inked in 1983 with Art Clokey, the creator of Gumby. "We are Gumby's longest running licensee and distributor," adds Croce. The wholesale distributor also holds licenses for Betty Boop, Felix the Cat, Mr. Bean, The Simpsons and more. While these well known characters and actors provide inspiration for the majority of NJ Croce Co.'s merchandise, the company isn't without its own creative works of nostalgia.
Unique Bendables and Desktop Toys for Adults
A leading wholesaler of new and vintage bendables (poseable character toys), NJ Croce continues to add to the popular category with its Off the Wall line. The four current bendables contain both an off the wall image and associated story. "The idea for these toys was originally presented to us by a customer, but we would love to add to the line if we are inspired with more off the wall characters," notes Croce. For now, adults and children above the age of three can enjoy the Narwhalicorn, a cross between a unicorn and narwhal, and guardian of mystical rainbow caves that feeds on enchanted underwater meadows and soft pink cotton candy clouds. The others are no less imaginative and include: Gentleman Bigfoot, who dresses up in a tuxedo and prefers polite company and fine dining; Brain Surgeon Zombie, who has chosen a profession that gives him unlimited access to brains; and Classic Punkle, the punk rock pickle known to protest and do anything for a jar of gourmet mustard. "If it sounds silly, it's supposed to. These characters are Off the Wall," says Croce. Their wackiness brings happiness for a wholesale price of under $5 apiece, and retailing for $7.99.
Croce believes all his company's merchandise (including the Off the Wall bendables) is well suited for a broad range of independent retailers. "Adults who want to be kids shop everywhere, so our products should be in all locations," says Croce. "We cater to customers of all kinds and sizes. If you are just getting started in business, we make it easy to buy. If you are an established business, we have the experience and know-how to meet your needs." There is a flexible minimum of $200, but as Croce adds, "The order can include an assortment of our 500 products." NJ Croce Co. ships quickly, with a promise that all orders will be processed and packed in a professional manner.
For more information:
N.J. Croce Co., Inc.
1330 Arrow Hwy.
La Verne, CA 91750
Toll Free: 800-899-8467
Tel.: 909-596-1800
Website: www.njcroce.com