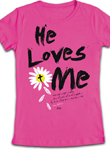 Kerusso may use pop culture as the inspiration behind its screen printed T-shirt designs, but the message these shirts present is solely inspired by Christian faith. Kerusso, Inc. reminds retailers that 94 percent of Americans say they believe in God, and 50 percent use inspirational products, making the manufacturer's Christian themed apparel suitable for any location, store type and target customer. "Customers purchasing inspirational merchandise are more particular about the message it sends than a customer purchasing an ordinary graphic T," notes Lorri Carter, vice president of creative development. With the use of surveys and focus groups, Kerusso looks beyond its artistic endeavors to make sure the design and associated message is what the customer is looking for.
Award-Winning Christian Apparel Designs
While over 20 designs were brainstormed for Kerusso's newest apparel line, customer feedback led to the production of nine adult and five children's T-shirt designs, along with four new caps and a patriotic promotional shirt. Among the designs, two have won the honor of first and second place in the Best Design category, awarded by Impressions magazine, the premier trade magazine for screen printers. Taking first place is the Torn Heart design. "This image was inspired by a photograph of Marilyn Monroe that had been torn apart and pieced back together into a new piece of artwork," says Carter. "The photo we used is of my grandmother's glass heart necklace. We tore it up and scotch taped it together." The image is a more feminine design, and incorporates the heart and scotch tape as one image. "The message is that no matter what has gone on, God can put all the pieces back together," Carter explains.
Retailers can expect to make a profit of keystone or more on this new line, which is set to be released in January, with the patriotic promotional shirt to be shipped in early spring. Those retailers participating in the Light House Apparel and Accessory Center merchandising program will continue to receive the $8 discounted wholesale price, as opposed to the $9.50 for retailers purchasing the T-shirts on an individual basis. "Retailers who are a part of the Light House program can, at the start of the year, cycle out their lowest performing T-shirts for some of these new designs," notes Carter. "But with customer feedback always taken into consideration, Kerusso is confident all its designs will sell well."
For more information:
Kerusso, Inc.
402 Highway 62 Spur
Berryville, AR 72616
Toll Free: 800-424-0943
Website: www.kerusso.com