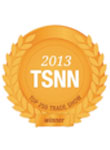 Both the February and August OFFPRICE Show's placed in the top 200 in the Trade Show News Network's (TSNN) prestigious Top 250 Trade Shows in the US rankings. The rankings list the top 250 trade shows in the country based on net-square-footage. The February 2013 show ranked 159 (131,000 NSF), while the August '13 show checked-in at 165 (125,000 NSF). In 2012, the show's ranked 163 in February and 164 in August. The OFFPRICE Show takes place at the Sands Expo at Venetian/Palazzo in Las Vegas, Nev. "We're always honored to be recognized by TSNN for the growth we've enjoyed," said Stephen Krogulski, Chief Executive Officer of OFFPRICE. "We have a great staff that works hard in order to put on the best show possible for both retailers and exhibitors."
OFFPRICE has seen a steady growth in exhibiting companies for the past several years. As consumers increasingly look for great deals on apparel, more companies have shown an increased interest in exhibiting at the show to connect with retailers. Apparel, accessories and footwear found throughout the show floor are often priced at up to 70 percent below wholesale prices, making OFFPRICE a can't miss show for thousands of apparel buyers. The 40th OFFPRICE Show will take place August 16–19 at the Sands Expo at Venetian/Palazzo. Show organizers are once again predicting one of the largest show floors in history. As more and more exhibitors carry brand name apparel, buyers have cited OFFPRICE as one of the best sources for all things apparel, accessories and footwear at below wholesale prices.
The OFFPRICE Show and publications are produced by Tarsus Group plc (TRS.L on the London Stock Exchange), an international media group with interests in exhibitions, conferences, publishing and the internet. Headquartered in Dublin, with offices in London, Paris, Shanghai and Milwaukee (home of OFFPRICE), Tarsus serves niche markets with trade events and online media. For further information on Tarsus and OFFPRICE, go to Tarsus.com and Offpriceshow.com.