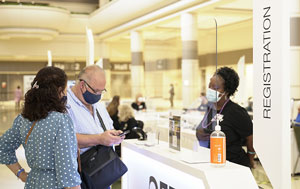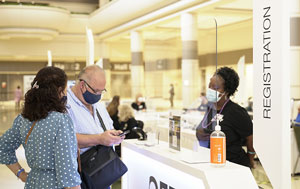 by Tarsus Group
Tarsus Group, organizer of the OFFPRICE Show, is pleased to announce a successful first live show of 2021, "OFFPRICE Orlando Market," which took place between February 9-11. The event joined Fashion Week shows MAGIC Pop Up Orlando and WWIN Orlando Showcase as part of a Stronger Together initiative to reunite and reignite the industry.
Taking place in the Orange County Convention Center, the three shows were organized with health and safety as a priority, in response to fashion retailers' and buyers' demand for an in-person tradeshow to support a return to business, given that many have been negatively impacted during the pandemic as a result of being unable to trade. The format of the appointment-driven show was clearly successful in encouraging buying activity with millions of dollars worth of transactions taking place over three days. Exhibitors promoted current trends and timeless classics to buyers from small business owners and boutiques to retailers for large regional chains.
Juan Santiago of Ben Kaufman Sales, exhibitor at OFFPRICE Orlando Market, said "OFFPRICE is a part of our strategy because it gives us the ability to move products to buyers that otherwise would not have access to. Companies nowadays have a lot of hoops to jump through to get to the decision makers, and shows like OFFPRICE put us face-to-face with the right people."
Staying Healthy
The event was organized in partnership with state government and Orlando Health, as well as adhering to the CDC-approved exhibitions-industry All Secure Standard. All exhibitors, attendees, contractors and staff complied with the measures which included the mandatory wearing of face masks throughout the event, daily temperature checks prior to entering the show floor, continuous sanitization and deep cleaning measures, and following physical distancing requirements both on the show floor and in public spaces.
As an additional layer of safety, show organizers produced the first trade show in the U.S. to offer on-site testing, with a negative COVID test result required to enter the show floor. Participants had the option to pre-test prior to arrival or take a free, rapid response test on-site. Event attendees welcomed the measures that allowed them to safely conduct much-needed business, with customer satisfaction survey results showing that 97 percent of respondents expressed the highest level of satisfaction in their on-site testing experience.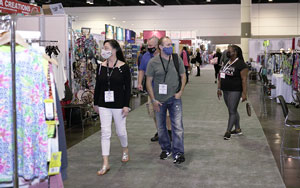 Buyer Jack Silvera, traveling to OFFPRICE from Panama, noted "We liked that we were able to meet various suppliers in Orlando after a whole year. We felt we had to support OFFPRICE because they are essential to our business. The show was well organized and safe. Wish more of you had attended. Looking forward to a larger show in Las Vegas in August. "
Tricia Barglof, Executive Director of OFFPRICE, said "Our top priority has always been the health and safety of our exhibitors, attendees and staff members. To bring the community together is critical to the revival of retail. In-person negotiation and relationship building is at the core of OFFPRICE. Although cautiously optimistic heading into the show, we were extremely pleased with the turnout and buying activity on the floor. We knew people were eager to get back to some sense of normalcy regarding sourcing and Fashion Week was their first opportunity. In providing a safe and controlled environment, we hope our success will provide reassurance and confidence that live shows can still be an effective way to do business once again."
August 2021
The OFFPRICE show will continue to serve the retail community alongside the other Fashion Week shows, MAGIC and WWIN in August 2021. The event will be held August 7-10 at their new venue, the Las Vegas Convention Center, home of MAGIC, making it convenient for buyers to shop both shows that week.