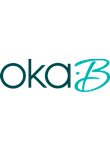 "We like to say Oka-B was born in the spa," says Kim Falkenhayn when asked how the company got started. The footwear brand was launched in 2006 with just a few styles focused on spa slides and thongs. Now, Oka-B has sandals, ballet flats and even wedges. Some of their best sellers include the Faith thong and the Lawrence sandal, "with its pretty tropical leaf adornment," adds Kim. The latest collection was launched in January and "this spring everyone is gaga for the Gaga slide." As far as ballet flats go, people "are picking up the Alessia and Easton flats, or the delightfully fun glitter Dorothy."
Oka-B "always has fresh new styles for spring!" They just introduced a new Millie thong footbed that their "designer spent months perfectly sculpting" and will be launching another new sandal later this spring, "keep your eyes peeled!" as far as trends for the year, Kim says. "Everyone is loving the floral-inspired adornments and more of a pastel palette. We've also seen interest in mixed-media pieces," and tropical themes. Oka-B will make personalized recommendations for first-time buyers based on location and what your customers are like. "It really just depends" and new buyers are encouraged to give Oka-B a call to speak to their experienced team.
Beyond a wide range of products and personalized customer care, Oka-B does everything in Georgia. Kim explains, "We have product design, manufacturing, warehousing, and sales all under one roof." Customers can count on Oka-B for U.S.-made quality, short lead times, and a friendly sales team. The wholesale price ranges from $14 to $32 and retail for $30 to $70. The minimum opening order is $600 and reorders are just $150 or more. Orders are typically turned in 48 to 72 hours and "every adornment is added by hand and made to order." They also sell a beautiful wood display rack for $130 that is made in the USA. Oka-B products can be displayed hanging on a wall or on a table. Kim suggests that retailers "merchandise them together with other accessories for an extra fun look."
Oka-B is a quality US-based wholesaler with a variety of styles and vast knowledge of the industry. Call them today at 888-730-6522 to begin your personalized buying experience or visit them at a trade show. They always offer a promotion to buyers at their shows. They will be at Atlanta Gift, SWIM in Miami, FN Platform in Vegas, and Surf in Orlando. If you can't make it to a show make sure you get on their e-mail list to stay in-the-know.