By Tana Hallows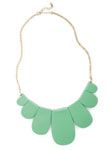 From the simple to the ornate, your customers will be sure to make a statement with today's popular jewelry accessories. Whether they want to dress their looks up or down, be sure to offer a range of styles for can't miss selling opportunities. The following is a peek at the latest looks in jewelry accessories.
Gold tones
Gold plated jewelry has made a comeback, and is passing silver by a mile as a really hot trend. Mixing and matching gold and rose gold, and also silver and bronze, can be a very big hit, too.
Neck candy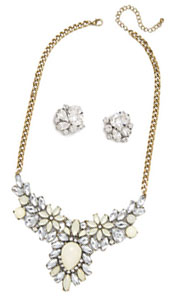 Statement necklaces are a continuing trend in both bejeweled and plain styles. Retailers should sell necklaces that are multi-faceted in bright colors. Popular details include faceted diamond-like looks and white pearl-like designs. Floral touches and flower shaped petals are also a big fashion hit. Simple gold plated chunky necklaces in different chain lengths are another popular statement piece. Encourage your customers to wear different lengths and styles of necklaces to add another dimension and more depth to an outfit. Layer a chunky cable with a jeweled statement necklace. The arrow style is also hot, as well as a simple bar or circle on a chain. Modest pieces for everyday, and bold necklaces for that special event are just what your customers will need.
Arm party
Layering bracelets with all gold or all silver tones for a fun arm party are sure to be a hit. Adding in a bracelet style watch is another way to add to that arm party. All gold tones are really hot, but silver is in, too. Your customers will love the large face watch style, paired with an army of bangles, and layering is always in style.
Ear treats
Don't forget the ears. Post earrings, especially jeweled ones, are a fashion do. Teardrop styles are also on trend. Another cool look includes oval shaped hoops or dangle style earrings.
Rings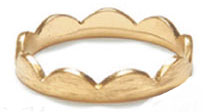 Last but not least, add a few rings to your merchandise offerings. Scallop and triangle shaped rings and stacked thin bands are big hits. The simpler the better!
With the right accessories, your customers will make a statement and you will rack up sales. Whether shoppers want to be subtle or bold, it is super easy to offer both options this season.