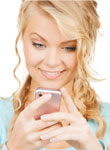 To meet the needs of the growing number of mobile users among shoppers, retailers agree that mobile must be the number one priority for their digital business in 2014. According to the 2014 Shop.org/Forrester Research Inc. State of Retailing Online survey, more than half of respondents mark mobile efforts as a top priority, identifying responsive design, mobile site optimization, and tablet redesign among key focus areas. A well-executed mobile strategy is key to overall growth as, on average, retailers' total 2013 smartphone revenue grew 113 percent over 2012, and tablet revenue grew 86 percent over the same period. The survey also found that 21 percent of retailers' web revenue was derived from either a smartphone or tablet in 2013.
Loyalty & CRM
Digital retailing fundamentals such as improved usability and conversion rates continue to be important for retailers, and this year loyalty and CRM efforts also figure prominently on priority lists. For instance, 36 percent of retailers surveyed are prioritizing improved marketing efforts as they continue to focus on both retaining and acquiring new customers. Repeat customers will grow in importance, and the survey found that half of web revenues are being driven by these shoppers. Nearly two-thirds note that repeat customers drove more web sales in 2013 than in 2012.
Website personalization & usability
Many retailers will also prioritize site redesign in 2014, with four in ten retailers surveyed planning to engage in some site overhaul. Efforts will focus on site personalization and usability enhancements, or the reconfiguration of the core site experience to positively affect conversion rates. As retailers report average conversion rates of approximately 2.7 percent, even small gains can bring meaningful revenue growth.
With 82 percent of retailers surveyed reporting sales growth in 2013, online retailers must begin to look at new areas of opportunity for continued growth in the coming year, says Forrester Research VP and Principal Analyst Sucharita Mulpuru. "Online retailers have proven themselves to be resourceful, resilient, and tenacious, thriving in spite of fluctuations in the economy. But to continue building on this story of growth, retailers should begin to focus on new areas of opportunity in 2014, such as improving mobile conversion rates and taking an omnichannel-centric business approach."
To read about 2014 customer service trends, click here.