By IvyLee Rosario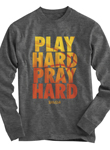 From color trends and designs to bold letters and patterns, Kerusso's apparel has always kept up with what is in style for the upcoming season all while maintaining their positive Christian message. "We focus on sharing an approachable Christian message, one that is encouraging to people," said Lorri Carter, Vice President of Creative Development. "We keep up with the trends and style but the message is what is most important." In order to stay true to themselves and incorporate the latest fashion ideals, Kerusso relies on their customers input on how to grow the business. The company recruits consumers to assist in narrowing down the designs for each collection, keeping in mind the question, 'what do you want to wear?' Carter says that when developing a product line, the business brainstorms 50 designs, develops 20, and then decides on 12 based on consumer insight. New styles are produced three times a year – the spring collection in January, summer in May and then fall in September.
Kerusso was founded in 1987 by Vic Kennett, who came up with the idea by using some inspiration from the town he lived in. "We live near a small resort town in the south and you always see people walking around in comfortable resort t-shirts," said Carter. "So, he was thinking how much he could share the gospel by making t-shirts about his faith. He started Kerusso in an upstairs room of his house 28 years ago." Overtime the company has grown from what started as a small mail order company to a line that is shown by gift representatives in both the inspirational and general markets and is sold in over 130 countries worldwide.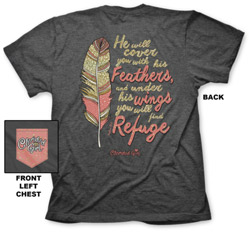 For the upcoming season, Carter says there is a lot of diversity amongst the men and women's lines. For men, athletic text, camouflage, jersey style shirts and large printed numbers are the most popular styles. For women, it is all about chevron patterns, glitter, feathers, athletic numbers and gold – whether it is metallic ink or foil. "We come up with great messages by using pop culture references or quotes that are tongue and cheek, but we replace that with Christian messaging. For example, when owls were big we played around with that and had some shirts that said 'Owl Always Love Jesus' and 'God is Good Owl the Time.' 80% of store customers wear these items because of what it says, so we make sure the merchandise speaks to the customer."
The company prides itself on doing their homework, ensuring that each design they come up with is something that is of interest to those who specifically buy and wear Christian apparel. "It is most important for us to continue staying true to our creativity," said Carter. "Our art team works together to create new concepts and looks that have to be unique and up to date but also has to share the message that we strive for. For us it is all about consistency and fresh designs." Kerusso products can be ordered on the website or by phone. To qualify as a wholesale buyer, you need to have a federal tax ID number, or if you run a church or nonprofit, show proof of your tax exempt status. Free shipping is available on orders of $250 or more, and the company will offer net terms on good credit.