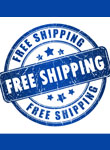 Online retailers are ramping up their efforts to attract eager shoppers with free shipping deals and other exclusive online promotions, according to Shop.org's eHoliday survey. Six in 10 (61.6 percent) online retailers will start their online holiday marketing promotions by Halloween, up from 52.9 percent in 2011. Nearly 39 percent will begin marketing their online promotions by mid-November or later. Online retailers have good cause to start earlier, too, as NRF's recently released holiday consumer spending survey found that 51.8 percent of shoppers will shop online in the coming weeks, the highest amount in the survey's 10-year history, and 22.1 percent stated they would begin shopping in October, up from 20.3 percent last year.
Quickly becoming the rule and not the exception for retailers, free shipping offers will abound.  According to the survey, nine in 10 retailers plan to offer some form of free shipping for online shoppers. When asked which promotions they will emphasize most heavily during the holiday season, 37.5 percent plan to offer free standard shipping with conditions (e.g. minimum purchase), and three in 10 will offer free standard shipping without conditions. In addition to free shipping, retailers will offer coupons, limited-time only deals, and discounts on specific purchases. Nearly half (47.5 percent) said they plan to heavily emphasize promotions that offer discounts that include a specific percent off their purchase and12.5 percent plan to offer coupons with select dollars off their purchase. Additionally, nearly one-third said they would offer limited-time only promotions. Asked when they would launch their first free shipping deal of the holiday season, nearly one-quarter (23.1 percent) said they already offer free shipping year round. Of those who don't, 26.6 percent said they would launch their first free shipping promotion by Halloween and, by Thanksgiving, more than three-quarters of online retailers will have offered the promotion.
Half of Holiday Shoppers Will Start Online Shopping by Halloween
As to when consumers will begin their online holiday shopping, half of those polled said they would start by Halloween and 43.2 percent will start in November.  When asked why they would be more inclined to shop online this holiday season, 38.4 of shoppers said 24-hour convenience is a main reason, and 35 percent cited free shipping. Additionally, 33.1 percent say they don't care for holiday crowds in stores and 29.6 percent prefer the ease of being able to compare prices.
The eHoliday Study, now in its 10th year, provides a snapshot of the holiday activities of both large and small online retailers, many of which have been in business for at least 10 years, and also includes the sentiments of online holiday shoppers. The Study, conducted by BIGinsight for Shop.org, surveyed 2,988 consumers from September 26 to October 11, 2012, and 40 online retailers from September 25 to October 11, 2012.