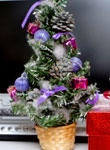 Holiday displays are up, pumpkin patches are bursting at the seams and Pay-Per-Click (PPC) spending is revving up, all indicators that the holiday shopping season is upon us. Shop.org forecasts online holiday sales will increase 12 percent this season and could reach $96 billion. Forrester Research reports that 80 percent of online shoppers "prefer to shop online rather than go to crowded stores during the Thanksgiving weekend." If you haven't already, now is the time to optimize your eCommerce site and marketing to make sure you capture your share of the holiday spend.
To boost your online holiday sales revenue, Darren Hill, CEO of WebLinc, a leading eCommerce platform and strategic services provider, suggests the following tactics to prepare for the holiday season.
Make Shipping Offers Clear:
Consider holiday shipping offers. According to Shop.org, most e-retailers are moving toward free shipping and free returns. Beyond just free or discounted shipping, consider offering guaranteed shipping times to promote buyer confidence.
Make Buying Easy:
Update your home page with quick links to featured holiday items and highlight your most popular products. Create a category for a holiday "gift idea" product list to help shoppers quickly and easily find products that meet their buying needs, such as "Gifts under $50," "Gifts for Dads," or even gift cards.
Maximize Email Marketing:
Email campaign content should always be meaningful and relevant, but particularly during the holidays when inboxes are being flooded. If you're planning a Cyber Monday sale, run campaigns up to two weeks prior to generate excitement around the event and the products you'll feature. Help your emails stand out by including personal recommendations for the customer based on previous orders or activity on the site.
Consider pushing more of your budget to your top keywords and best-selling products. Ensure the landing pages for all your campaigns contain the relevant information with quick and easy links to make a purchase.
Mobile-influenced demand may represent $36 billion in retail store sales over this holiday season. Customers are using their smartphones to research products and compare prices in retail stores while on-the-go. Add quick features to your website to accommodate them and enhance the customer's in-store shopping experience.
Optimize SEO:
Add keyword-rich content around holiday specials, including home page tags, blog posts, social media posts and web banners.
Monetize ratings and reviews:
Shoppers trust reviews and buy from merchants with better ratings, so strive to provide excellent customer service, encourage customers to write reviews, and quickly respond to any negative feedback.
Cyber Monday last year was retail's top selling day, coming in at a record-breaking $1.25 billion in the U.S. Plan campaigns and promotions now, ensure proper inventory levels and provide excellent site navigation to get the best return.
Important Dates
Nov. 22: Thanksgiving Day
Nov. 23: Black Friday
Nov. 26: Cyber Monday
Dec. 10: Green Monday (eBay's peak shopping day)
There is a last minute holiday shopping rush from December 19 to 26, and people will shop into the New Year, so keep your site updated with offers, products and shipping options. This could be a record year for online retail so make it a record year for your business as well. Look at your analytics from last year's holiday season as well as current trends on your site, and plan out and communicate incentives to your customers clearly.