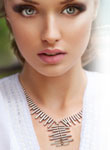 Sales One LLC was launched in 2000, and carries two unique lines of jewelry, Body Vibe and Inox, reports Mark Hollis, company owner. "The company was founded on Body Vibe and that is still one of our main businesses, along with the stainless steel Inox jewelry. Both are growing rapidly." The Inox line of 1,400 pieces includes rings, pendants, anklets, charms, chains, money clips, cuff links and bracelets. Stainless steel is popular because it doesn't tarnish, is easy to clean, holds up over time, doesn't scratch easily and is affordable, Hollis notes. Ninety percent of Inox jewelry is made from 316L, a marine grade stainless steel that is non-corrosive in salt water.
"Rose gold and stainless steel, and black diamond and stainless steel combinations are working really well and getting even stronger," Hollis reports, "and for the last two years, leather and steel has been picking up. There's been a lot of European influence with the multiple bracelets that both men and women are wearing today, and a lot of our pieces lend themselves to wearing multiple versions." Markup is generally three times wholesale price. "On the wholesale side, most of our rings are below $10 and most of our chains are in the $5 to $10 range," Hollis continues. "Our average price for bracelets is around $25. We have great gift items, and our retailers do really well in December."
With Body Vibe although the line is composed of pieces that decorate the entire body, it's all about the ear, according to Hollis. "People are wearing larger size plugs, and don't think twice about spending $20 for a nice pair of plugs that the retailer paid $4 or $5 for." Body jewelry has a huge markup and retails for four to five times wholesale. Sales One introduces new styles almost every week and has fully integrated design, manufacturing, sales and distribution systems. In addition to Body Vibe and Inox, the company, located in Norwalk, CT, also distributes Wild Tribe and a line of Playboy licensed jewelry.
For more information:
Sales One LLC
151 Woodward Ave., Ste 1
Norwalk, CT 06854
Tel.: 866-507-2537
Website: www.salesone.org