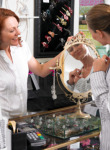 UK blogger "Dr. Retail" has posted some interesting thoughts on how selling to the "shopper" and not the "consumer" can result in improved sales no matter what your business.
"In times of change, when shoppers will be thinking harder about every item they put in their basket, such understanding is more critical than ever," James Haggas writes.
Listing ten ways retailers can increase satisfaction and sales, Haggas offers some timely tips everyone can benefit from.