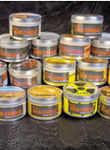 The Original Man Candle Company has put a clever new twist on a product that is probably as old as time. The company does not just sell candles; it sells candles with an, "attitude," as one could guess by some of the candles' names, including Popcorn, Pizza, Draft Beer, Cup O' Joe, Garage, Fishing Dock, Bacon, Football, French Fry, Pot Roast and more.
According to the company, women buying the candles for men are the best customers. But there are a lot of male buyers as well. In fact, customers say these are the first candles they ever actually bought, because they thought candles were kind of "girly" things that smelled like sugar cookies or vanilla.
Wholesale pricing on the candles varies with volume, starting at $5.50 per unit, down to $4.25 per unit. The suggested retail price is $10 to $11. The candles come 18 pieces to the case, which is the minimum order for $99, and can be filled with the most popular selections.
For more information:
The Original Man Candle Company
3110 S. Maple Pl.
Broken Arrow, OK 74012
Toll Free: 888-647-1MAN
Tel.: 918-449-9609
Website: www.originalmancandle.com