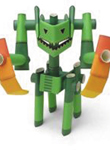 Remember the days when you made paper crafts as a kid, or visited the hobby shop to find your next train or robot model Magnote believes in bringing youth and days of crafting back to adults, by supporting interactive hobbies along with creative fun. According to owner, Shinya Fujimoto, "At Magnote we strive to find unique and fun goods from around the world that fit a little fun into today's busy schedules, and provide great gift giving opportunities for those hard to shop for people. In 2008, we started to bring PIPEROID, a paper craft robot with movable joints, to the U.S. market. Since then we have expanded our line to include other design intriguing goods from Japan and the rest of the world."
PIPEROID is a paper craft robot designed and produced in Japan. The robot is made out of paper pipes with pre-drilled holes and marks to cut, fold, and connect the pipes without the need of glue or tape. All you need is a pair of scissors, and with minimal assembly you can bring your own PIPEROID to life in just 30 minutes. Retailing at $16, it makes a great gift for shoppers looking for gifts under $20, and retailers can expect to make more than keystone at a wholesale price of $7.95. Available in two series, retailers can purchase and offer PIPEROID classics, which contain the parts for one robot, while the PIPEROID characters series contains enough parts to make two robots. "We have 25 characters and styles in total," says Fujimoto.
The newest item offered by Magnote, is GIGO Blocks. Mirroring the interactive, creative and collecting quality of PIPEROID, GIGO Blocks are well suited for discount stores and independents looking for impulse buys. There are 16 styles currently available for each GIGO Blocks Cube Figure. Packages contain a head, body, arms, legs, mouth, and nose pieces to build one of the predesigned styles. Each of the pieces can fit in any of the holes in the block pieces. "The real fun begins when you start to mix and match the pieces from different characters, kind of like a miniature Mr. Potato Head. The package also comes with a sticker sheet to dress up your very own character," notes Fujimoto. Wholesaling for $2.95 apiece, retailers can make a quick and profitable sale at $5.95 retail. Other benefits offered to retailers is a low minimum order of $150, a $10 shipping credit for retailers ordering $300 or more, and preassembled samples to showcase each product in-store.
For more information:
Magnote Corporation
PO Box 1285
Fremont, CA 94538
Tel.: 415-935-1147
Website: www.magnote.com