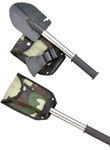 In today's world, dangers and disasters may be right around the corner, despite the best possible preparations and precautions. Simply stated, personal awareness and preparation is the best defense in combating the unkown. "Take for instance the recent economic hardship we've faced. People are now looking to protect more of their personal assets in this time of loss," says Dana Ellington, president of Self Defense Supply. "There is also a substantial need for survival products, as many people have had to face the devastation of natural disasters this past year. All in all, people are searching for items that will help protect 'Me and My Own'." It is Self Defense Supply's acute sensitivity to the general population's needs that has led the company to the forefront of an industry that is growing daily and turning profits.
Extensive Knowledge and Self Defense Weaponry and Supplies
Ellington is a passionate man with extensive knowledge of self defense weaponry and supplies. His experience has been acquired over nearly 15 years as a manufacturer and wholesaler, and he is still primarily a businessman with roots as a retailer, looking to increase business for his wholesale buyers. "Our goal is to bring retailers the best, most desirable merchandise at the best prices to help them succeed. We want their businesses to grow and make money," says Ellington. Part of the plan for success is providing a one stop shop for retailers looking for a mix and match of products, or perhaps only a couple of items. "If you wanted to start an account with Kershaw, United, Gerber, Smith and Wesson, and all of our many other brand name items, you would have to apply to all of them, meet their high initial order requirements, and jump through all other kinds of hoops. Even if you needed only a few items, you would have to meet their high reorder requirements. Plus you'd have shipping to pay on all those shipments, and all that tracking to keep up with," notes Ellington. Which is why he thinks it makes much more sense to pick up the phone and place one order for all your merchandising needs.
With a limited start in knives, stun guns and pepper spray, Self Defense Supply ambitiously grew its product lines to include items such as tasers, surveillance systems and even 30 year shelf life food products. "We are a regional distributor for Mountain House Food. Our 20 year partnership has lead us to be a primary distributor for them, as other distributors and dealers are being shut down. These products are ideal for those consumers who have increased concerns about survival and preparedness," adds Ellington. Other highlighted product lines are Self Defense Supply's manufactured line of blowguns and pepper spray. Simply, "You'll get products available nowhere else! Self Defense Supply owns Avenger Blowguns and is the largest manufacturer of blowguns in the world, so?we know how to do it right. That's why our blowguns carry a lifetime guarantee," says Ellington. "Crime Halter Pepper Spray, plus Stunzilla, Panther, and Black Cobra Stun Guns make their home here as well."
The market is driven by new and unique products, and customers are on the prowl for new products with a purpose. Self Defense Supply is aggressive in learning about trends, updating products, and all there is to know about self defense supplies, as well as the best ways to market them successfully in a retail store. "We actually spend a lot of time, effort and manpower to find the best products to turn profits. We also give retailers marketing signs, sales tips and more, designed to help sell more." Retailers interested in working with Self Defense Supply are required to fill out an application and create a login to view wholesale prices on the company's website. "We do not offer up our wholesale prices without this login, as we are not selling to the general public. But we do offer some products as low as $2 to $5 wholesale," explains Ellington. "And retailers can always expect to make keystone and quite often triple their purchasing price." Other benefits for retailers include volume pricing, piece quantity discounts, and both single and case pricing.
For more information:
Self Defense Supply
1819 Firman Dr. #101
Richardson, TX 75081
Tel.: 972-644-6800
Website: www.selfdefensesupply.com