By IvyLee Rosario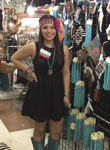 With 250 booths and over 7500 qualified buyers, Parker Trade Shows combines a one stop shopping experience for all jewelry, fashion, home décor and gift needs with the intimate feel of being amongst a community of people. "Our show is small and family friendly," said Margaret Parker, owner. "We have the same staff and security working the show, as well as returning exhibitors, so most of the time there are no strangers in attendance. We are like a family, we have our own little community in which everyone knows each other." The show will take place at the San Antonio Event Center from September 18-20 and has been in business for thirty-one years.
Although Parker Trade Shows has a steady list of returning exhibitors — some who have participated since the beginning — it also makes sure to add new ones for each show to mix up the variety for buyers looking to attend. Whether attending as an exhibitor or buyer, this show makes it a priority to offer the best services to those who take part. "We have launched a lot of small companies and have helped people who come here to get their business started," said Parker.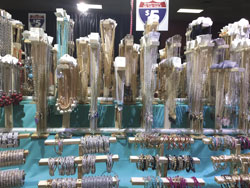 For exhibitors, she recommends they send special invites to their best customers, telling them that they should attended. In addition to invitations, sending thank you cards to customers is a big win. Showing that you appreciate their business ensures buyers will return. For buyers, Parker suggests taking their time and walking through the entire show, aisle by aisle, before committing to an exhibitor. "It can be overwhelming having so many people trying to get your attention and buy from them. Take it an aisle at a time, take notes on what products you were interested in, and then go back through again." The most popular products selling now at the show are costume jewelry, and recently the gold dealers and diamond sellers have been doing better business – now that people are interested again in buying higher end pieces.
Parker Trade Shows offers pre-show shopping on Friday from 9-11am, in which buyers can get elite passes from their exhibitors to attend the show before the mass crowd hits, giving them time to sit down and discuss the products. "This helps exhibitors quite a bit when dealing with significant customers, as they do not have to be bothered with a ton of people coming up to them at once," said Parker. "This way they can do pre-orders ahead of time, before the show gets busy, and buyers can have a sense of ease in knowing they took their time with purchasing."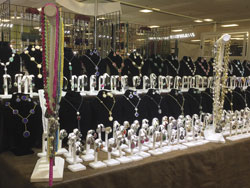 This trade show aims at providing a community feel for its attendees, and plans on expanding its "family" with each passing year. Attending this show, buyers will benefit from hand picking products and seeing what new selections the exhibitors have to offer. Exhibitors will benefit from meeting new contacts that they would have never been exposed to if they did not take part in the show. "We used to be vendors ourselves so we know what it feels like to be on the other side of the fence," said Parker. "We strive to make sure everyone has what they need to succeed at our show."
Parker Trade Shows provides hotel and travel information on their website, as well as a place for registration. In order to register, attendees need a tax ID, business card and a driver's license. After approval, the show will mail badges to guests or they can be picked up on site. If interested in attending, call 512-261-4223 or visit www.parkertradeshow.com.