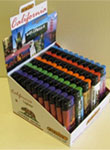 Patel Smoke knows its customers, mostly smoke and tobacco accessory shops, and makes a simple proposition: "We can beat anyone's prices," says manager Sharad Patel. "Our prices are definitely the cheapest."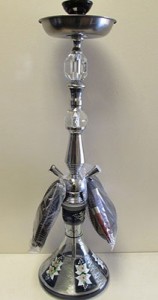 Patel Smoke offers a comprehensive line of tobacco accessories and smoking implements, including a huge variety of glass pipes, water pipes and bubbles, grinders, vaporizers and other smoking tools. By far the most popular products are the glass pipes, which range from 4″ to larger sizes, and come in an array of colors and styles. The company's water pipes include a selection of handcrafted, artisan pipes, and specialty pipes with built-in percolators and other features. Patel also sells hookahs, scales, e-cigarettes and accessories.
New products for 2014 include 7″ long, glass spiral "Sherlock" glass pipes, dark striped pipes and clear glass pipes. Patel also bundles similar glass pipes and water pipes into easy-to-order units, with mixed colors in similar styles. According to Patel, these products are best displayed in cases, which allows customers to see the colors and craftsmanship. Patel has been in the smoking accessory business for 15 years, and launched Patel Smoke in a new location in 2012. The company has both retail and wholesale distribution.
Ordering and pricing
Patel Smoke products can be ordered via the company's website, or by phone. Businesses must show a valid business license or tobacco license to be qualified for wholesale pricing, which runs as low as $3.99 per unit for smaller glass pipes that sell for triple wholesale cost. Patel will match any other wholesaler's pricing, and also offers an excellent returns policy. "If the glass breaks, we'll exchange it right away or replace it, with no questions asked," Patel vows. Wholesale customers have a $200 minimum per order.
Patel Smoke
8747 Vineyard Avenue
Suite #130
Rancho Cucamonga, CA 91730
Tel.: 909-944-0475
Website: www.glasspipesla.com