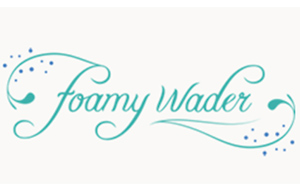 Once all of the stay-at-home orders went into effect in early 2020, brick-and-mortar retailers everywhere were forced to close their storefronts and relied on ecommerce sales to stay afloat. Even once stores were allowed to reopen, it was difficult getting shoppers to come in the store and many were still purchasing online.
Increasing Traffic During the Pandemic
Alexa Allamano, owner of Foamy Wader, an independent jewelry store in Washington, figured out a way to overcome the challenges of COVID restrictions and get consumers in her store. "I thought, 'what if I made this store so it is a shoppable space even if I am not here all of the time?' That is when I had the lightbulb idea for the QR Codes. I do not need to talk consumers through the directions and search for products since they can just open up their camera and scan. It has been a total game changer — I have been able to rehire staff, build up volume while my hours are still by appointment only, and I am able to shift around my work schedule to meet the needs of my family."
A Literal Window Shopping Experience
These eye-catching QR code window displays have been driving curious foot traffic to Foamy Wader's website since Alexa set them up. Shoppers can use their smartphone camera to scan each code, which are placed next to certain items on display in the store window, and will be led to the exact item on the brand's website. This scan-to-shop method facilitates fast and easy impulse shopping through the windows 24/7 and is a convenient option for customers with small children or pets in tow, or even for after hour browsers. Since poor searchability is one of the top reasons for site abandonment, QR codes streamline getting a customer to the right product in seconds, bypassing the need to search.
"I have definitely seen a spike in traffic with the QR codes," Alexa said. "We are right across the street from a popular restaurant, so I have seen orders come in around seven, which means customers have gone to dinner, and then come to take a look at my shop. I can definitely see the hundreds of scans that have come on phones, so the codes are sending shoppers to my website."
A Cheap & Simple Way to Boost Sales

Not only is Alexa using the QR codes to increase sales and traffic to her website, but she is also using the codes to grow her email list and book appointments. She has also reduced paper waste in shipping materials by having a QR code that leads to the FAQ on her website, which is printed directly on the box. The best part of all of this is that these codes are super cheap and easy to display in any storefront.
You can pay to track QR codes, but it is free for static ones — all you have to do is print them out and place them in your window displays. Alexa said she pays around $200 a year for the service to have 50 dynamic QR codes and track the number of scans over time. Including custom shelves she put in her storefront windows to make them more appealing, she only spent around $500 in total for two years of QR codes service.
"This is something that the independent retailer can really take advantage of because you need to have a physical space to window shop, and it is an attractive new option that you can offer your clients," Alexa said. "QR codes make it so you are open for limited hours. It expands the opportunity to capture those sales even before and after you open. On slow days, leave the sales to your windows and take the day off, you need it." Alexa has become an unintentional window shopping guru, teaching her method to other retailers. By popular request, she wrote a guidebook for brands to adopt this method and have guest taught webinars on the subject.