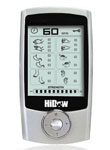 Hi-Dow International manufactures four portable and hands-free personal electronic muscle stimulators. The firm's ISmart, XP Micro, XPD and XPLUS provide TENS, or Transcutaneous Electrical Nerve Stimulation, to relieve acute and chronic pain. These pocket pain fighters are popular with consumers because they are easy to use and portable, so people can use them in their homes, on trips, at work, or just about anywhere. They relieve pain by sending electrical pulses, at a rate of 120 per second, through pads attached adhesively to the skin. These electrical pulses block pain impulses, and the brain is fooled into thinking there is no pain. In addition, the units improve blood circulation, reduce inflammation and relax muscles. The products' ability to treat pain and muscle tension, along with rising healthcare costs and consumers' heightened interest in self-care, make these products a lucrative business prospect for retailers. Hi-Dow's muscle stimulation kits retail for $300 to $600 each, and the average markup is 800 percent.
Number one seller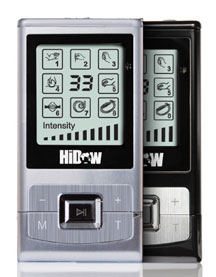 The company's best seller is the XP Micro, which offers eight treatment modes including deep-tissue, acupuncture and suction cups. The XP Micro has 20 levels of therapeutic intensity and two ports where the user can insert electrode wires. The wire then connects to the electrode pads, which are applied to the skin. Alternatively, the wire can be connected to an electrotherapy accessory like stimulation sandals, socks or gloves. "The device can be used to treat different parts of the body simultaneously, such as shoulders and back, back and hips, and back and thighs," says Bob James, VP. The company's therapy devices have been federally tested and approved, a critical element to legally marketing a medical device. "Products without FDA approval may present health and safety risks to users."
Several accessories are also available. Hi-Dow gloves, designed to target specific pressure points in the hand, are effective for carpal tunnel syndrome. Hi-Dow sandals simulate pressure points in the feet. Ear clips, car chargers, splitters that take a four pad to a six pad, and three sizes of adhesive, conductive pads round out the assortment. New products are in development and will be introduced this year.
Before introducing the product line, company president Eric Chen spent five years researching the technology and manipulating electrical pulses to develop multiple therapeutic effects. The product was brought to market in 2002, and Hi-Dow expanded its operation and created a stronger training department in 2012.
Extensive sales support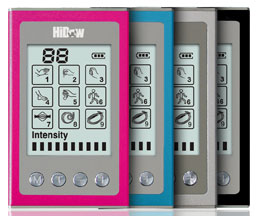 Hi-Dow provides retailers with an array of marketing tools, banners and custom artwork to support the growth of their businesses. In addition, muscle disorder terminology, the science behind the units, secrets to upselling and the demonstration process are all reviewed extensively with retailers. With interactive demonstration, the products sell themselves, James reports. Training can be held at a retailer's shop, a Hi-Dow location or through Skype. The minimum order is 36 pieces, and includes 36 gift bags, brochures and flyers. Immediate drop shipment is available.
Hi-Dow will be exhibiting at the ASD show in Las Vegas, March 16-19, at booth SL3140. Attendees are invited to stop by for a free product demonstration and to learn more about becoming a Hi-Dow retailer.
Hi-Dow International Inc.
2071 Congressional Drive
St. Louis, MO 63146
Tel.: 314-569-2888
Website: www.hi-dow.com