By Kody Yates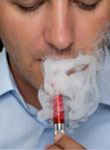 Vaping is on the rise, and many people are replacing traditional electronic cigarettes with personal vaporizers, a more advanced electronic cigarette. Inquiries with product suppliers by convenience store owners and distributors, and the general buzz at trade shows as early as September of 2013, indicate that traditional e-cigarettes are losing ground in the alternative smoking industry. The personal vaporizer consists of a battery, clearomizer or heating device, and v-juice. While both a personal vaporizer and traditional e-cigarette involve atomizing e-liquid and exhaling water vapor, a healthier alternative to tobacco smoking, there are significant differences in quality, power and value.
Personal vaporizer FAQs
Personal vaporizers have longer battery life, consumers save money because they do not have to buy cartridges, and the liquid is refillable. The only thing consumers have to replace is the heating coil, which is very inexpensive. There are different price points but vaporizers provide more value than e-cigarettes because they can be used over again. Depending on the model, personal vaporizers can last more than a year. With traditional e-cigarettes, when a user runs out of liquid in a cartridge, they throw it away.
Consumers also prefer the newer product because of its increased vapor output. Vaporizers deliver more vapor with less effort than is required with a traditional e-cigarette and, as a result, are more satisfying. Personal vaporizers also allow users to enjoy a wide variety of e-liquid flavors. E-liquids contain four main ingredients: propylene glycol, vegetable glycerin, flavor and nicotine, if desired. Many juices are made in the U.S. and if suppliers are buying their blend of nicotine extracted in the U.S., and they contain FDA approved ingredients, they are better and safer products than those produced outside the country.
In addition, the vaporizer has turned into a lifestyle product and is an accessory item. It is more attractive than a traditional e-cigarette and provides an air of sophistication. A person often attaches one to a lanyard and wears it as a favorite piece of jewelry like a gold necklace or wristwatch. Size is dependent on model, and many are lightweight and easily fit in a shirt pocket.
Regulation ahead
There has been a lot of discussion about taxing and restrictions on both e-cigarettes and personal vaporizers. It is not clear when the FDA will begin regulating the industry, but it could be sometime this year. Many in the industry view this as a positive thing because it could ban online sales of these products. As it stands, a child can get online with his parent's or friend's credit card and order product, while over the counter sales would require in-person age verification.
The e-cigarette industry is still evolving, and more changes lie ahead. One thing is clear; it is a popular alternative to smoking that is here to stay.