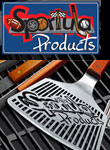 With Father's Day just around the corner and holiday shopping not too far down the road, many retailers are looking for distinctive new gift ideas to spark sales. With that in mind, Sportula Products has designed a line of licensed sports and enthusiast based heavy-duty stainless steel grilling tools and accessories that let men and women alike make a personal statement while tailgating, or cooking indoors or outside.
The Sportula, the company's flagship product, is a heavy-duty stainless steel grilling spatula, laser-cut to reflect a sports team logo or other image. It measures 18.5 by four inches, just the right size for a holiday stocking, and has maple handles and a bottle opener at the end of each handle. Sportula Products also manufactures a three-piece barbecue set that comprises the Sportula, a matching set of heavy-duty tongs and a customized grilling fork. Another laser-cut product, Grill-A-Tongs, also includes a bottle opener and can flip, turn, rotate and scoop all sizes of meats. Similar in design, Boasters are heavy-duty stainless steel beverage coasters.
"Our products make perfect gifts," states Ryan Nord, director of Marketing. "They are popular all year long, but our heaviest volume is for Father's Day and the holidays. They are an ideal way for any guy or gal to show their support for something in a fun way."
Licensed and enthusiast merchandise
"Sportula Products are registered trademarks of our business," says David Bazzoni, president. "We have coveted licenses with the NFL, MLB, NHL, Marine Corps, U.S. Army, U.S. Air Force and over 130 colleges and universities." In addition to the company's licensed line, it offers enthusiast based products such as "Camo Buck" for the hunter and patriotic themes, like the U.S. Marine Corps. Sportula Products also laser-cuts sentiments such as, "#1 Dad," "#1 Grandpa" and "Palmetto Moon" into its merchandise.
"The products are novel in nature and functional in use," Bazzoni states, and work equally well outdoors and in the kitchen. "The Grill-A-Tongs, for example, are fantastic because they can flip anything from fish, to chicken to steak in a frying pan," Nord points out." The longer handles are a great safety feature, too. "When we went through the prototyping of the Sportula, we wanted to keep a safe distance and also ensure the products have the right feel when you're holding them," he explains. Also of note, Sportula Products are aesthetically pleasing, and many people hang them on their walls for decoration, Nord shares.
Sportula Products offer big sales volumes at healthy profit margins, Bazzoni assures. The products retail for: Sportula, $24.99; Boasters (set of four), $24.99; Grill-A-Tongs, $34.99; and the three-piece BBQ set, $49.99. Sportula Products offers several wholesale programs for sellers, and the minimum order is three pieces per SKU. A full visual merchandising program is available, as well as corrugated counter and floor displays for traditional brick and mortar stores.
Where to buy:
Sportula Products
Marc Roth
National Sales Manager
Tel.: 888-713-5343
Visit Sportula Products