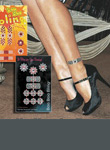 Boo Boo Bling looks like a piece of jewelry that, when placed on a bandage, transforms it from boring to beautiful. Product developer and Boo Boo Bling LLC president, Rita Sevigny, came up with the idea when she was getting ready to attend an elegant event and a necessary bandage was marring her look. "I had this beautiful dress on and this ugly bandage," she recalls. "Just for fun, I put some bling on it." To Sevigny's surprise, her bandaged bling became the talk of the party. "Everyone was telling me I had to do something with it," so Sevigny began the process of seeking a manufacturer, and getting a patent and trademark.
Boo Boo Bling wholesale for $2.50 apiece and come in a box of 50 packages, which can be utilized as a display case, for $125. Retail price is $5.99 each. "I'm willing to work with smaller venues as far as a minimum order," Sevigny assures, "but retailers like the 50 piece box because they sell quickly."
Each Boo Boo Bling package contains three sizes of seven stickers and seven bandages. The sticker, which covers the bandage, fits on brand name bandages, as well as on those in the package. Three designs, each in several colors, are presently available, and Boo Boo Bling LLC will customize designs and packaging for orders of 5,000 pieces or more. The product launched in January and already Boo Boo Bling is creating custom orders for Sephora, a French brand and chain of cosmetics stores.
Where to buy: