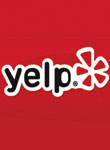 Yelp has introduced a new feature intended to highlight and quantify the value that the listing and review site provides for small businesses. The feature, called the Revenue Estimator, separates customer leads from page views.
Leads can include things like bookmarking a Yelp business listing, mapping directions to the business, placing a phone call from the Yelp app, purchasing a Yelp deal, making an OpenTable reservation and more. Then, using a recent study from the Boston Consulting Group, it estimates the average spend per customer in a given business category.
Businesses can also enter their own estimate for the value of a lead. Finally, the tool takes the total leads and multiples it by the average value of each lead, giving businesses a sense of the revenue generated by Yelp. The feature helps business owners understand the impact that Yelp is having on their revenue, and it gives them a baseline from which to judge the success of their advertising campaigns.