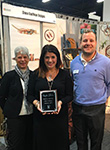 The pleasures of summer time beckon: think of visiting the Liberty Bell, Constitution Hall – and The Philadelphia Gift Show! Come July, Urban Expositions will once more present their popular Philadelphia Gift Show, to be held July 23-26, 2017 at the Greater Philadelphia Expo Center in Oaks, Pennsylvania.
New for summer 2017, the Philadelphia Gift Show will launch a "Discovery Zone," featuring pop-up education sessions, demonstrations, giveaways and additional buyer attractions. This first-of-its-kind feature on the show floor joins the ever-enlarging number of first-time show exhibitors with highlighted product introductions to provide buyers with a unique buying opportunity.
"The Philadelphia Gift Show continues to be a cost-effective and convenient choice for the region's retailers to shop an all-category show, discover the newest designs and resources, improve their productivity and prepare for the upcoming fourth quarter," says Brett Smith, show director, Philadelphia Gift Show. "For July, we're introducing a new interactive and education resource area on the show floor called the Discovery Zone, which is designed to help support local merchants in reaching their store goals."
What can buyers expect to find at the summer Philadelphia Gift Show? Known throughout the entire East Coast as a top-notch source for regional specialties and uniquely sourced products, the show expertly offers buyers a one-stop shop for giftware of all kinds. Exhibitors will be showcasing up-and-coming designs in decorative accessories, tabletop and fashion accessories, plus toys and games, handcrafted artisan-created gifts, and uniquely branded items that will set your store apart from all others.

The upcoming summer show will feature a full range of resources in a number of ever-popular categories, with a spotlight on key growth areas, including Child's Play, Makers' Market, Home Accents, Made in America, and Gourmet, Candy & Confections. In keeping with the show's focus on the region's well-known delights, buyers may attend a special Made In America curated buying tour, hosted by Julie Steiner, first vice president of the Museum Store Association and director of retail operations for the Barnes Foundation. Steiner will lead buyers through a tour of the show floor, calling out particular suppliers and detailing strategies for retailers to successfully create and incorporate Made In America products in order to grow their own in-store sales.
As always, the Philadelphia Gift show will host a range of buyer education seminars, complimentary breakfasts, prize giveaways, as well as plentiful discounts and lunch for those who stay through the last day of the show. For buyers seeking additional show details, hotel reservations and travel information, please visit www.philadelphiagiftshow.com or contact Urban Expositions at 800-318-2238.
Upcoming Dates: July 23– 26th 2017