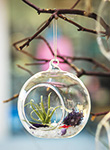 Unrooted Plants are low maintenance, customizable air plant terrariums. Owner Dennis Ingwersen explains that he has been in the retail industry, particularly the gift industry, for 40 years and has always had an interest in plants and gardening. He became involved with Unrooted Plants after seeing terrariums surge in popularity on Pinterest and other social networks. Like houseplants, terrariums are said to have many health benefits including reducing stress and anxiety, purifying air, balancing humidity levels, and more.
Unlike houseplants, Unrooted Plants are easy to maintain and nearly endlessly customizable. Retailers and customers can build their own terrariums with different selections of sand, moss, accessories, and of course plants in a variety of containers. Unrooted Plants tells Independent Retailer that their large selection is part of what sets their company apart from others. "We have the whole gamut right in one place. You don't have to go to other companies for any parts of the terrariums and worry about meeting their minimums."
The plants themselves absorb nutrients through the air instead of roots, which is why they can thrive in a variety of containers and environments including glass bowls, vases, shells, cork, driftwood, and more. They grow in all directions, including upside down. Unrooted Plants can survive over and under watering. As a retailer, they only require water once a week. "That's it," explains Ingwersen. "They are ideal for gift stores and other retailers that aren't regularly in the plant business because they don't require the same maintenance as regular plants." To water the plants, either soak them for 30 – 60 minutes or gently spray them. But don't worry, "We offer a lot of training," he says. "We offer extensive manuals and videos through our website so your employees can go online and see exactly what they need to do to care for the plants and assemble terrariums." The training, called Unrooted University, is supplied to every wholesale buyer.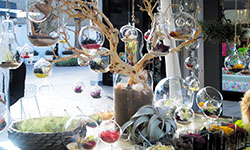 Retailers can choose whether they would like to have an interactive display, where customers can build their own terrarium, or whether they would prefer to sell the terrariums preassembled. Unrooted recommends to customers "If you really want volume out of the product, take a four-foot table and offer the components to make your own terrarium. That's how I've sold them in the past, and for me, it's been a great success. However, some of my retailers also like to preassemble the terrariums and set them up on tree displays, and they are also hugely successful. It depends on your store and what works best for you."
Unrooted offers three different assortment packs with display options starting at $300. You can also purchase open stock. Order minimums are $150 total, $100 for terrarium supplies and $50 for plants. So, retailers have the choice of purchasing a customized order or buying a turnkey package. Unrooted strives to offer competitive pricing., so retailers can expect a 300 percent markup on products.
"Being in the retail industry for so long I know what retailers need to succeed," explains Ingwersen. "I understand where they're coming from; I was a buyer for many years and know what challenges they face." In order to stay in touch directly with shoppers and keep the creativity flowing, Unrooted attends craft shows and farmers markets, "To get out there, talk with customers, and see what people are looking for." For more information, prices, and ordering options call 888-315-1542.