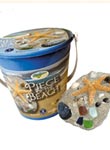 Beach and Nature Company founder, Andrea Montoni, cherished the moments she shared with her son strolling the shoreline and collecting beach treasures. One of their regular activities was making castings using Plaster of Paris to preserve shells, pebbles and footprints, but lugging the necessary materials to the shore was burdensome. Inspired to find an easier way to create plaster castings, Montoni started Beach and Nature Company to provide Piece of the Beach kits that contain plaster, a stirring stick, a paper mold and project instructions, all in a portable beach pail. In addition to the original beach pail kit, the company now has introduced beach ornaments and an animal track edition of the original casting kit.
"Our handcrafted beach ornaments are made right here in Salem, Massachusetts," says Kathleen Straube, sales and marketing manager. There are five different designs from which to choose, including the finger starfish, sugar starfish, mixed shells, sand dollar and large seashell ornaments. Each comes individually gift packaged in a craft box with blue accents. "It makes for easy merchandising," Straube adds. The company also makes kits for customers interested in making their own ornaments. "They're perfect for gift shops, hotels, resorts, cruises, toy stores, beach and boating stores, and souvenir shops," Straube continues. Beach and Nature Company also recently released another item called Nature Trax, which is geared towards families who hike in the woods, and also sells well to families with pets. Customers are able to make plaster casts of animal prints, and the kit comes in a child size hiking backpack.
Wholesale pricing at Beach and Nature Company starts at $4.50 for handmade ornaments. "Our minimum quantity requirements differ, depending on the product being purchased," Straube points out. Ornaments retail for $9.95, and plaster casting kits retail for $12.99. For its larger Piece of the Beach kits, the company offers a potting bench display that doubles as a pouring table, so retailers can set up a station where children can make their own castings of handprints, footprints or other beach finds. Retailers are invited to inquire about Beach and Nature Company's customizable color tags and labels.
For more information:
Beach and Nature Company
92 Jackson Street
Salem, MA 01970
Toll Free: 866-988-0333
Tel.: 978-594-5798
Website: www.beachandnatureco.com