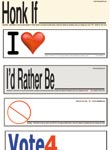 Bryce Tumlinson, president of Blank Stuff, came up with the idea for his business when he found that printed bumper stickers and tee shirts didn't allow him to express his opinion. By creating products with fill-in-the-blank areas, he sought to fill a need in the marketplace for merchandise that offers customers personalized options. Tumlinson soon moved to magnets, which he found were better sellers than bumper stickers. As he continued to expand on the idea, Tumlinson also created a variety of partial sayings for his shirts and magnets. "I took the same approach with tee shirts for a reason," Tumlinson says. "Once you get out of your car, which has your message on its bumper, you can continue spreading your message with your shirt."
Messages run the gamut from audacious to affectionate, with a number of neutral slogans in between. These include "Say no to _," "Will work 4 _," "God Bless _" and "_ happens," among others. One customer might choose to finish the statement, "Will work 4" with "cupcakes;" and another might choose to say "Work happens." There are 11 different sayings, and each magnet or tee shirt comes with a special marker that erases or washes off easily. Tumlinson cites his most popular slogan as "I heart," for its positive outlook. Around the presidential election last November, Blank Stuff also released a political magnet, "Vote for _," which was a fast seller before the Republican candidate was announced. "Different ideas can fit any description," Tumlinson points out. "People can write whatever they want to, and change it up every time their shirt comes out of the dryer. The possibilities are endless," he says. "Aside from the customization aspect of Blank Stuff products, the fact that they are all made in America is one of the strongest selling points," Tumlinson notes.
Magnets with the special pens wholesale for $6 each, and tee shirts with pens wholesale for $12 to $14 apiece, depending on the size of the shirt. Retailers may order sizes small through triple extra large, and the minimum order is 24 pieces. Displays are also available for purchase. The company is always running different specials, and Tumlinson advises retailers to ask about current volume discounts when they call to order, as they change periodically.
For more information:
Blank Stuff
301 Main Plaza #113
New Braunfels, TX 78130
Tel.: 830-822-2036
Website: www.blankstuff.com