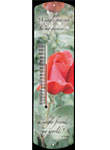 Heritage America by Morco, the retail arm of Morco Advertising Products, has made a business out of finding new ways to present everyday items, particularly thermometers. Morco has been a source for American-made products for 91 years, and continues to refresh its inventory with new graphics for assorted merchandise. New for 2013, the company has introduced a series of products with improved full color graphics, and added paper clips, rulers, luggage tags, light switch plates and slate clocks to its catalogue. Along with the expanded line, Heritage America is offering gift packs, which is an option that company president, David Hart, says is quickly becoming a popular pick. For example, the firm recently filled an order for a client who wanted Holstein cows printed on light switches, thermometers and rain gauges. "Because they were in the right demographic community, the matching set idea was very appealing to the end customers, and worked as well if not better than having a single printed product," Hart shares.
Heritage America has a great deal of experience filling customized requests, and images submitted for custom work are often added to the company's permanent collection. One of the firm's most recent thermometer lines, the state series, has grown as a direct result of customer requests. "We only create graphics for states as we are asked for them," Hart explains. If a customer wants to buy a state the company doesn't already have, onsite designers will create a mockup with facts about that state, as well as its trademark flower, bird, tree and nickname. This mockup is then emailed to the potential customer for approval, and the order is placed after that.
Heritage America's thermometers are eco-friendly, as they contain no mercury or batteries. "Thermometers are a simple product, and ours run off of solar power during the day and lunar power at night," Hart explains. They are durable both indoors and outdoors, and are available in sizes ranging from six to 20 inches, wholesaling for $3.50 to 7.50. "Generally speaking, retail prices are twice the wholesale price, so $15 for the larger thermometers is usually the normal retail price," says Hart. There is a minimum order of one case per item, which contains 25 pieces, and retailers can mix and match as they choose. "It's important to have something to make each different end customer happy," Hart suggests. Heritage America expects to carry point of purchase displays for floors and countertops at some point this year. The firm will continue to add new graphics to its product line on a monthly basis, to ensure that merchandise sells successfully in a variety of retail settings.
For more information:
Heritage America
125 High Street
Cochranton, PA 16314
Toll Free: 800-247-4093
Website: www.heritageamericagifts.com