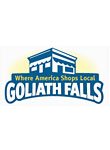 New site is dedicated to promoting locally owned independent businesses nationwide.
Sumner Communications, Inc. launched GoliathFalls.com, a unique directory that showcases America's locally owned independent businesses, thus bolstering the "Buy Local" movement that has been gaining momentum in recent years.
GoliathFalls.com is an online resource where locally owned businesses combine forces to gain national marketing power. Qualified merchants can list themselves for free, and, for a nominal annual fee, they can post unlimited coupons. On GoliathFalls.com, consumers are able to discover the locally owned stores, restaurants, and services in their communities in hundreds of different categories. They can also share ratings and reviews, and get the latest ads and coupons posted by their local businesses.
Sumner Communications, Inc. (SCI) took note that, while small businesses create the unique character we cherish in our local communities, they have been struggling and their numbers are shrinking every day. "Independently owned businesses have traditionally had difficulty competing with the advertising budgets of national chains. GoliathFalls.com is changing that by allowing small businesses to join forces and gain national exposure," says Scott Sumner, president of SCI.
GoliathFalls.com provides advanced features including Google Maps and social media integration, ratings and reviews, an option for users to keep a favorites list, and the ability for users to share listings and coupons with their friends and neighbors.
Sumner Communications has been serving the wholesale merchandise industry since 1988. The company prints over two million copies each year of both monthly and annual publications for independent retailers, flea market and swap meet vendors, online retailers, and buyers of wholesale merchandise. It also owns and operates multiple industry websites, which deliver daily business news, insights, and product information.