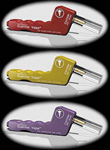 Essential Herbal Technologies LLC offers the Essential Vape EV101, which it says is the first and only portable vaporizer with interchangeable vials. To vaporize with the Essential Vape Portable Vaporizer, heat the vial with a lighter. There is no mess and no fuss. The EV101 was specifically designed for essential oils and refined herbal concentrates. It will also vaporize oils of unrefined plant matter.
The detachable, disposable one dram glass vial used for the reaction chamber allows the user to quickly change from vaporizing one herb to another, avoiding cross contamination, simply by changing the vial. The detachable reaction chamber also allows for easy loading of the user's favorite herbs and essential oils. The EV101 is completely portable. There are no electric or critical moving parts to break. The unit is machined from solid aluminum, and is anodized inside and out. Anodizing is a molecular oxide coating, which seals in any leachable metals within the alloy, making it a food grade finish. The EV101 is virtually indestructible, giving the user years of convenient vaporizing.
The EV101 includes a lifetime warranty, has a wholesale price of $55 per unit, plus shipping and handling, and a suggested retail of $110 per unit. The minimum wholesale order is ten units. Distributor price is $42 per unit with a minimum order of 100, plus shipping and handling. The firm offers glass vials for $40 per gross (Gross equals 144 units).
For more information:
Essential Herbal Technologies LLC
Toll Free: 866-OIL-VAAP (645-8227)
Website: www.essentialvape.com