Starting in May,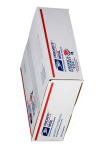 the United States Postal Service (USPS) will be testing out product sampling in a number of key markets. The products will include assorted health, beauty and snack food items from a selection of consumer packaged goods company which typically sell their items through independent retailers.
"Consumer packaged goods companies are always looking for new ways to build brand awareness for their products," said USPS President of Mailing and Shipping Services Robert F. Bernstock. "One method they often turn to is providing trial-sized samples to consumers. A large and growing industry, product sampling offers the Postal Service the potential for millions of dollars of added revenue."
Approximately 200,000 USPS-branded boxes will be sent containing the selected product samples. The test-markets include Charlotte, North Carolina and Pittsburgh, Pennsylvania, two area commonly used in such tests due to their having a high number of young families with children. Eight different companies are taking part, contributing 11 different products to the test.
The USPS plans to continue the test through the end of the summer, at which time a decision will be made as to where to take the testing next, and what to do with the accumulated data.