By Kevin Zimmerman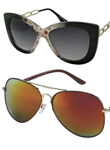 For nearly 30 years, Houston-based PR Sunglasses has maintained a reputation as one of the country's foremost sunglass wholesalers, offering fashion-conscious shades in a variety of frames, lenses and colors for men, women and children. It also provides a wide selection of reading glasses, sunglass displays, cases and accessories.
PR – whose acronym stands for "Poly Ray" – was started in 1986 by president Minly Sung who, according to national sales manager Janice Chien, "loves fashion, and she chose sunglasses as her line of trade."
While it offers both metal and plastic frames, PR is currently seeing strong sales with its line of plastic frames in its retro category – which ranges from fun "MTV in the '80s" styles to round tortoise-shell designs and beyond – as well as that evergreen favorite, the Aviator, which in addition to the standard black, grey and blue shades also includes mirrored and colored mirror designs.
Also on hand are rhinestone-bedecked sunglasses for more adventurous customers, outdoor, camouflage and biker designs, outdoor and sports wraparounds, goggles, children's styles, and an eye-catching line of novelty items. These include designs akin to those first popularized by John Lennon and late-period Elvis Presley, as well as eyewear featuring eyeball or skull holograms for extra kicks.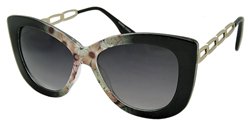 And despite the name, PR Sunglasses is not just about sunglasses. A number of reading glasses and bifocals are also on hand in a similarly wide variety of styles and designs, as are safety glasses, clip-ons, and accessories ranging from cases and cords to repair kits, cleaning cloths and gloves, counter trays, price tags, and floor display stands. For the last, special freight shipping quotes are available.
Sharp-eyed customers are also encouraged to check out the websites' "Super Deals" page, wherein lie such deals as pre-packaged sets of varying styles and designs in 60 or 120-pair groupings. These are often made up of promotional items.
As with any thriving business, PR Sunglasses also has a robust "New Items" section at the top of its navigation column. Chien estimates that the company adds new designs to its site roughly every two months. "Staying abreast of trends is accomplished by reading a lot of magazines; seeing what celebrities are wearing nowadays." New customers are usually acquired "from trade shows, advertising, and word of mouth from our loyal customers," she adds, as well as from "our website with new styles and secure, easy payment system."
Pricing for all merchandise can be accessed after registering at the company's website, www.prsunglasses.com. Sunglasses are sold by the dozen, displays by the piece. All returns must be pre-authorized by PR; if not, a 20 percent re-stocking fee is charged. PR also requires a minimum order of $100 for all new accounts.