by Tobi Schneidler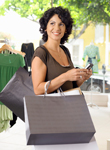 Retailers have been obsessed with improving the customer experience, experimenting with 'revolutionary' technologies like iBeacons or QR codes just to stay on the cutting edge and remain competitive. These projects are designed around the idea that, once installed, they'll fulfill the promise of footfall, conversions, or loyalty – whereas in truth, when these technologies are implemented without aligning with a retailer's value proposition, they often fall short of expectations, resulting in little-to-no proof of return.
There's no denying technology's importance and role in a multi-channel environment, but focusing solely on technology is a misguided approach and can potentially fall just short of an impersonal shopping experience. However, a customer-centric view that focuses on delivering value every time, will dictate a winning digital strategy. In the year ahead, retailers will place an emphasis on maximizing value from touch points which align customers' needs with their own business goals.
Here's a closer look at three key areas where retailers can derive value for their customers and see some ROI for their own business.
Self-service options
The E-tailing Group recently conducted a survey of approximately 1,106 shoppers and when asked about their retail service preferences, 84 percent stated self-service was in-fact their preferred choice. This is an incredibly telling statistic, as to why convenience and value are the top motivating factors behind retail technology investment. Why? Service efficiencies alleviate strain for the customer, improve satisfaction and boost loyalty, which can result in more sales opportunities for the retailer.
Self-service kiosks help retailers deliver convenience through self-checkout stations, which eliminate long lines and wait times. They can also, and more importantly, serve as interactive touch points, gathering insights on user behavior while browsing and ordering online, or in-store. Providing users with this type of intimate and personalized experience gives shoppers unlimited access to a retailer's product inventory or more specific information like price and availability. Shoppers remain engaged in-store, and help retailers distinguish themselves from standard brick-and-mortar stores.
Staff-facing solutions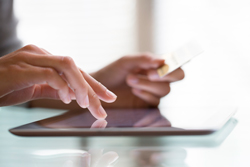 There is still a very real human element to retail, and the need for old fashion face-to-face customer service is not going anywhere. Shoppers still want to speak with a sales associate, ask questions, touch and feel the product, and receive expert advice all before they purchase – it's part of the retail experience. The only caveat being, shoppers are more informed and knowledgeable, and their informational needs and expectations are accelerating. Store associates are required to answer more in-depth and insightful product questions today if they want to close the sale.
With clienteling and assisted selling solutions like Raymark Mosaic, retailers can arm their staff with the tools needed to serve customers more efficiently. Employees can bring inventory intelligence directly to customers in-store. These solutions help retailers identify customers and by leveraging data like purchase history, employees can make informed and personalized suggestions. The sale of a sweater becomes a new outfit because your employee referenced the customer's purchase history and saw she has a soft spot for matching jeans and boots – it's a win-win for everyone.
Streamlined Transactions
In the traditional sense, retail transactions are a two-step process; product selection, purchase at point-of-sale. Retailers can no longer think about transactions in this way moving forward because your customers have surged ahead. In an age where customers are always online, retail service and transactions should feel the same way and the store environment should match, too.
A seamless experience from start to finish, customers must be able to transact regardless of where they are. This may require cross-platform integration between clienteling or assisted selling solutions and point-of-sale, or in some cases, an all-in-one platform. One unique insight is the growing popularity of mobile and contactless payments as a preferred transactional method among consumers. Luckily, solutions like PayPal Here are providing small businesses with simple and affordable ways to accept mobile and contactless payments, without breaking the bank.
Conclusion
Consumers are more connected and informed than ever before. This hasn't always favored retailers; especially those that sat back and watched from the sidelines before implementing their own digital strategies.
In 2016, retailers that surge ahead will transform segmented omni-channels to a more fluid robust model that is customer-centric, focusing on maximizing value at every touch point to gain profitable return.