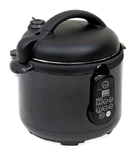 LATIN AMERICAN DISTRIBUTORS INC. offers an electric digital pressure cooker that also can be used as a steamer. It is the Imusa brand, which for the past 75 years has been the number one brand for Hispanic cookware. Hispanics use pressure cookers often to tenderize meat and cook beans, and this digital pressure cooker speeds up both of these processes. Instead of taking two hours to tenderize meat, tenderizing can be completed in 30 to 40 minutes. While cooking beans on a regular stove takes about a half hour, the electric digital pressure cooker does it in about 15 minutes. While speeding the process, the unit also saves energy.
Hispanics are not the only buyers who can benefit from this pressure cooker, however. It holds five quarts, which is 4.7 liters, and includes a timer, so it can be set to start and stop at a particular time. It has a non stick interior surface, which makes for easy cleaning. The electric power portion can be removed, so that the cooker itself becomes dishwasher safe.
There is no minimum order. The wholesale price is $60.99, and suggested retail is $99.99. Latin American Distributors carries a complete line of Imusa brand cookware, along with a large selection of kitchen gadgets, brooms, mops and other kitchen oriented supplies.
For more information, contact:
Latin American Distributors Inc. (LADI)
100 Crows Mill Road
Keasbey, NJ 08832
Toll Free: 800-832-1208
Tel.: 732-738-7390
Website: www.latinamericandist.com