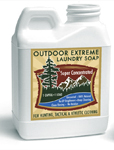 SELESTIAL SOAP LLC has introduced Outdoor Extreme Laundry Soap, an all natural laundry product designed specifically for the needs of hunting, tactical and athletic gear, in which scent, camouflage and maintenance of the properties of high tech fabrics are critical. The manufacturer is a specialist in 100 percent natural cleaning products. Outdoor Extreme Laundry Soap meets the needs of military, police and security personnel for clothing and equipment that does not glow when viewed with night vision equipment. The UV brighteners and dyes used in traditional detergents reflect light, which makes the wearer vulnerable. Outdoor Extreme Laundry Soap does not contain these ingredients, and rinses cleanly to remove any ingredients left behind from previous cleanings.
Outdoor Extreme Laundry Soap also makes hunters' clothing scent free, and free from the brighteners and dyes that have proven to be visible to game animals. In addition, it is especially beneficial to high tech fabrics. These fabrics often provide breathability and wicking properties at first, but over time and washings, they diminish due to residue left behind by traditional detergents. These garments are often worn tight to the skin, and the residue from washings can irritate the skin.
The non sudsing, clean rinsing formulation of Outdoor Extreme Laundry Soap leaves no residue behind, making it ideal for running, soccer, skiing and other high tech sports clothing. Furthermore, Outdoor Extreme Laundry Soap is super concentrated, making it easy and convenient to carry. It comes in a 16 ounce bottle that will wash up to 50 loads of laundry in a standard washing machine, or up to 100 in a high efficiency machine. The suggested retail price is $12.99.
The product comes in cases of 10 or in pallets containing 1,440 units. With an order of one pallet, the wholesale price is $7.87. Selestial Soap has just launched this product, has limited distribution, and is looking for additional distributors.
For more information:
Selestial Soap LLC
P.O. Box 5117
Traverse City, MI 49696
Tel./Fax: 231-944-1431
Website: www.selestialsoap.com