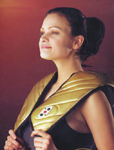 TRF USA has created the, TapTech Back and Shoulder Massage, which is a horseshoe design that wraps around the back of the neck and shoulders and has handles or arms that reach down from the shoulders. The center contains magnetic plates that emit a tapping motion. More than the usual vibrating motion, the tapping goes deep inside the muscle to get the knots out and undo damage, in the same way a professional massage therapist does. The TapTech arms are the control mechanisms. They contain three buttons. A red one is for on/off, one black one makes a stronger tap, while another makes the tap softer. It is not the speed of the tap, but the strength that provides relief. It emits 20 rhythms, which cycle on their own.
Although the TapTech wrap is designed to be placed over the shoulders, it can also be used on the stomach, thighs, legs, feet and lower back. It has a soft fabric cover and is offered in a choice of black or gold. Units come individually boxed, and the box contains full instructions, including a DVD that shows how TapTech is used to treat different strains, stresses and areas of the body.
The minimum order is five units in the same color. In that quantity, the wholesale price is $80. It declines with higher volume orders. The suggested retail price is $150 to $200.
For more information:
TRF USA
16741 1/2 Parkside Avenue
City of Cerritos, CA 90703
Toll Free: 800-832-3063
Tel.: 562-623-1747
Website: www.bnsmassager.com