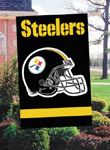 THE PARTY ANIMAL INC. has introduced appliqué and embroidered flags carrying the logos and colors of popular professional and collegiate sports teams. The flags are of high quality nylon and measure 44 by 28 inches. There are about 160 different designs. They include all teams in the National Football League, Major League Baseball, the National Basketball Association and 65 colleges. Among them are the Ohio State Buckeyes and Florida Gators.
The flags are weather resistant and designed for indoor and outdoor use. There is a sleeve on top so the flags can be hung from a pole, typically above a garage door. These are The Party Animal Inc.'s number one selling item from among the nearly 2,500 different stock keeping units it carries, all of which are related to sports. Most retailers are familiar with the teams that would sell best in their own market.
However, company staff members can provide lists of best sellers. Some teams are popular in many parts of the country. Those include the New York Yankees, Pittsburgh Steelers, Los Angeles Lakers and Boston Celtics. The minimum order is $100, and there is no piece minimum. The order can include a mix of any flags and can also include other products from The Party Animal Inc. The wholesale cost for a flag is $15.99, and suggested retail is $29.99.
For more information:
The Party Animal Inc.
1350 Chester Industrial Parkway
Avon, OH 44011
Toll Free: 800-456-0145
Tel.: 440-934-4339
Website: www.partyanimalinc.com